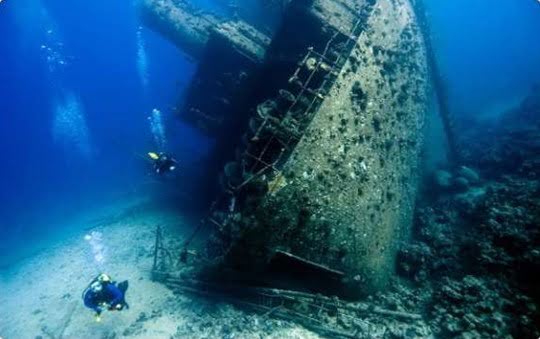 North Classic
What you expect to see?
The North Classic itinerary will take you on an incredible adventure, Where we will enjoy a scuba diving safari with our Aphrodite Liveaboard into one of the most famous wrecks in the world, such as the SS Thistlegorm, and the SS Dunraven wreck, In addition to the extraordinary variety of marine life that has formed and grown over the years.


The SS Thistlegorm Wreck Dive site
The Thistlegorm is the best-known and most popular wreck dive in the Red Sea. It lies on the west coast of the Sinai Peninsula and 40 km from Sharm El Sheikh,
The Thistlegorm sank after just 18 months after her launch in April 1940.
It was carrying military equipment during World War II, such as Morris cars, Bedford Trucks, motorcycles, spare tank and aircraft parts, grenades, guns, munitions, mines, artillery, and much more that made it one of the best diving sites in the Red Sea.

In the early hours of the 6th of October 1941, the Thistlegorm was split in 2 and sank almost instantly after being hit by "2" bombs from a German long-range bomber.
The Thistlegorm wreck is one of the best diving sites in the Red Sea. In fact, one of the best diving sites in the world.
The Dubraven Wreck Diving
The Dunraven, a steam and sail-powered vessel used to transport spices and timber, ran aground the reef Shaab Machmud in March 1876 during a voyage from Bombay to Newcastle and sank quickly.

The ship broke in two, and her two halves came to rest on the sea floor. The wreck lies upside down with the stern at a depth of 28 m and the bow at 18 m.
At the stern, you find the propeller and the rudder, which are overgrown with corals. Inside the wreck, you see thousands of glassfish
Shark and Yolanda reef dive site
You will also enjoy another more than wonderful scuba diving experience in Sharks and Yolanda reef, which is rated as one of the top ten dive sites, not just in the Red Sea but in the world, with wonderful marine life, where the coral reefs are a colorful and great variety.

Divers flock to Yolanda reef to explore the remains of the Yolanda, an old Cypriot cargo ship that ran aground in 1980.
Highlights
Military equipment such as Morris cars, Bedford Trucks, motorcycles, spare tank and aircraft parts, grenades, guns, munitions, mines, and artillery.
Spectacular coral reefs
Crystal-clear waters
Schedule
Included
Dive guides

7 nights full-board accommodation (or the last night at a 4*hotel)

Non-alcoholic beverages

3-4 dives per day (2-3 last day)

Tanks, weights

NITROX

Local transfers

checkLocal transfers
Excluded
Flights

Rental Equipment

Alcoholic beverages

Visa

Crew Gratuities